Captain & Crew
---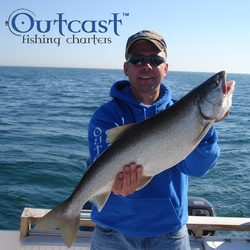 Capt. Jason Whitman
USCG 25 ton Master Captain's License
PFBC Licensed Charter Captain / Fishing Guide

Hello, I am Jason Whitman the Captain/Owner of Outcast Fishing Charters. Thank you for
considering my fishing charter service and I would like to tell you about myself and my service.

I grew up in rural northwestern PA where my dad started teaching me to fish as soon as I was
old enough to hold a fishing rod. I began fishing the trout streams surrounding my home using
whatever bait I could find under a log. Countless days my brother and I could be found on the
stream banks or along the edge of our grandparent's pond casting lines. From there began the passion.

After receiving my first boat from my grandfather, I expanded my fishing to the inland lakes in the area
and began the challenge of targeting new species and mastering new techniques.

I began fishing Lake Erie in 1998 and instantly gained a new found respect for the challenges of big water fishing. From the amazing fishery
that Lake Erie presents I began targeting new species and through trial and error began fine tuning techniques to be successful from season
to season and species to species. Addicted to the challenges and the fishery, Lake Erie has remained my primary fishing destination.

I believe that fish in the boat is a product of hard work and experience. Experience, being identifying those patterns that have been effective in
the past under similar conditions and hard work in the form of constantly changing or fine tuning programs to make your day as successful as
possible.

My mission is to work as hard as I can for you, to maximize results and provide a safe, comfortable, fun filled day on the water, that will provide lasting
memories.
---
---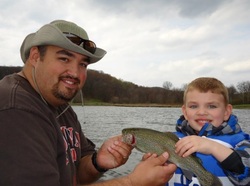 First Mate Ron Bradley
USCG 25 ton Master Captain's License

I discovered the joy of fishing at a very young age with my dad who taught me how to lure fish from the waters of farm ponds, trout stocked streams, and small inland lakes near my childhood home in Franklin, PA. I burned the gears out of my first Zebco 33 Classic by the age of 7 and since then I've worn out too many reels to count. I enjoy fishing all four seasons of the year wherever and whenever I get the opportunity and I've fished as far north as Alaska and as far south as Jamaica…I love to fish!

Learning to successfully fish Lake Erie has been a mission of mine since my dad took me on my first walleye charter in middle school. That trip sparked an obsession that has lasted a couple decades now and it only seems to get more enjoyable each season. I truly enjoy the challenges of finding, targeting, and catching these trophy fish in such a vast body of water using techniques that have taken years to learn, refine, and perfect. I respect the dedication and precision it takes to be even mildly be successful here and the fact that catching fish with a high degree of consistency means leaving as little as possible to mere luck.

Fishing and working with Capt. Jason Whitman as First Mate aboard the Outcast has been a tremendously rewarding experience. I truly enjoy my part in bringing the excitement of big water trolling to those who share an interest in taming these waters. For many it's a new experience and I pride myself in my ability to help make even the greenest angler quickly feel comfortable with the day's fishing program. I measure success not by the contents of the cooler, but by the smiles on the faces of the anglers at the end of the day because, after all, memories last longer than the fillets.

See you on the water! Ron
---
---
Outcast

- Pro-Line 25 Walkaround (25'5" LOA / 8'6" beam) with hard top
- cuddy cabin with head
- powered by a 2012 Yamaha F300, 300hp four stroke outboard
- 2011 Tohatsu 20hp four stroke outboard kicker
- Furuno Sonar & GPS
- Lowrance HDS Gen 3 sonar/chartplotter w/ Sirius XM Weather
- Raymarine autopilot
- Fish Hawk X4 trolling probe
- Cannon electric downriggers
- Cisco electric planer mast
- Big Jon and Bert's Tackle rod holders
- Standard Horizon VHF radio
- USCG approved safety equipment
---